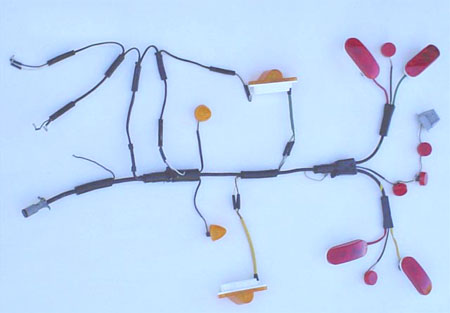 Many people would agree that the single biggest complaint trailer owners have is wiring problems. For this reason, we at Johnson Trailer Co. offer many models of trailers with a factory sealed wiring harness.
All wiring harnesses are custom built for specific models of Road Warrior® and Load Warrior® trailers.
•

 Trailer Wiring Harness Specifications
•

 Conductors and cable meet ATA and SAE specifications.
•

 Conductors are 100% pure copper.
•

 Conductors and cable are insulated with polyvinyl chloride.
•

 Multi-conductor cable pressure insulated with .055″ wall thickness for durability.
•

 All terminals are machine applied.
•

 Joints are sonically welded and with a heat mold seal.
•

 Female terminals are filled with a corrosive preventative compound.
•

 Molded plugs – 75 durometer polyvinyl chloride.
•

 Systems manufactured in modular form for ease of installation.
•

 Modular components simply plug together.