Specifications - Single Axle Flatbed Utility Trailer

Weight Rating:

2,990 LBS. GVWR w/evenly distributed load

Axle:

1- 3,500# w/ez-lube

Suspension:

4 leaf double eye springs

Tires & Wheels:

ST205/75 D15 load range C tires, 5x5 bolt pattern silver mod wheels

Fenders:

9"x32" 16 ga. smooth w/stoneguard

Hitch:

2" Atwood A-frame w/safety chains

Jack:

2,000# topwind Rapid Jack

Structural:

4" channel frame & full wrapped tongue, 2 X 3 X 3/16 crossmembers (24" centers)

Tie Downs:

Multiple stake pockets (will fit wood 2 X 4)

Electrical:

All required lighting, license bracket w/light, wiring in conduit w/flat 4 way connector

Floor:

2X8 treated yellow pine decking

Paint:

Phenolic epoxy ester primer w/acrylic finish

Colors Available:

Black, Victory Red, Charcoal Metallic, Silver Metallic, Bright Blue Metallic, Emerald Green Metallic, Federal Yellow, Bright Safety Yellow, Safety Orange, (Some custom colors - please call)


Note: Trailer is designed for wood side racks. (Side racks are not included)



Bed Size & Prices




Prices Current as of December, 2015





•

5' X 8' w/48" ramp gate: $1,239



•

5' X 10' w/48" ramp gate: $1,274



•

5' X 12' w/48" ramp gate: $1,354



•

5' X 14' w/48" ramp gate: $1,358



•

77" X 10' w/48" ramp gate: $1,359



•

77" X 12' w/48" ramp gate: $1,379



•

77" X 14' w/48" ramp gate: $1,414



•

83" X 12' w/48" ramp gate: $1,433



•

83" X 14' w/48" ramp gate: $1,479



Some Options





•

Spare ST 205/75 D15 LR "C" tire w/silver mod wheel: $109



•

Spare silver mod wheel w/o tire: $45



•

Electric brakes: $150



•

Safety breakaway: $45



•

Security Latches: $9 each (2 straight and 2 corners required for wood side racks)



•

Aluminum tongue mounted toolbox: $199 Click to view aluminum tongue box



•

Poly tongue mounted toolbox: $99 Click to view poly tongue box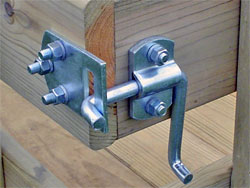 Corner Safety Latch
Custom built trailers and other options are available. Call us with your needs.
Note: The price you see is the cash price!
F.O.B. Colfax, WI
(If payment option is credit card, please call ahead for details.)
No additional freight or other hidden charges!
(5.5% Wisconsin sales tax applies to all purchases)
We at Johnson Trailer Co. are constantly striving to bring you the latest and most innovative designs at competitive prices. We are commited to updating and improving the performance of our products. Johnson Trailer Co. intends that the information, specifications, and prices available on this website be as accurate and up-to-date as possible. We cannot guarantee complete accuracy of information on this website.